In a
recent post
on this blog I linked to a Lee Harris column which asked "why isn't socialism dead?" The key point was that socialism lives on in the dimension of myth. The author concluded that piece:
This is why socialism isn't dead, and why in our own century it may well spring back into life with a force and vigor shocking to those who have, with good reason, declared socialism to be no longer viable. It is also why Georges Sorel is perhaps even more relevant today than he was a hundred years ago. He knew that it was hopeless to guide men by reason and argument alone. Men need myths -- and until capitalism can come up with a transformative myth of its own, it may well be that many men will prefer to find their myths in the same place they found them in the first part of the twentieth century -- the myth of revolutionary socialism.

This is the challenge that capitalism faces in the world today -- whether it will rise to the challenge is perhaps the most urgent question of our time, and those who refuse to confront this challenge are doing no service to reason or to human dignity and freedom. Bad myths can only be driven out by better myths, and unless capitalism can provide a better myth than socialism, the latter will again prevail.
I prefer to use a term other than capitalism as do most of the readers of this blog. There are even bigger problems than word usage. There is a combination of the myth of socialism and the propagation of a toxic idea meant to undermine the ability of a free society to defend itself.
Dr. Sanity
offers the following:
What are these "dangerous trends that began decades ago"? To understand what is happening in the world today, one must understand the a philosophy that has taken root in Western Civilization and brought us to this point in history--and, yes, ideas really matter; and when you are basing your society on bad ones, then you can expect bad things to happen.

The philosophy that is behind these dangerous trends is Postmodernism; and Barack Obama represents the culmination and embodiment of the perfect postmodern demagogue.
There have been prior posts on
this blog
dealing with Postmodernism as well as additional posts at at
Dr. Sanity blog.
She continues:
We can think of the four pillars--POLITICAL CORRECTNESS, MULTICULTURALISM, RADICAL ENVIRONMENTALISM, and TERRORISM-- as the foundation for both the socialist revival (particularly in the Western hemisphere recently) and for the rapid advancement of the Islamic Jihad and Islamic fundamentalism.

Below is a flow chart that has been adapted from Stephen Hick's book, Explaining Postmodernism (p. 173), which summarizes the evolution of these four strategies/pillars of leftist/progressive thought; and though I have written about it before, it is well worth repeating over and over again as the perfect postmodern storm that swirls around approaches a Category 5; and as reason, truth, and reality are belittled and ignored by our leaders: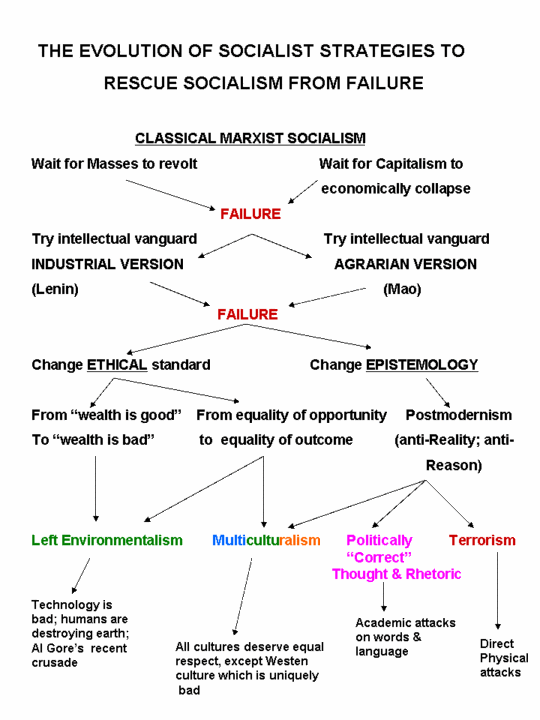 The refusal to accept failure combined with the spawn of Postmodernism gives the radical left considerable ability to undermine freedom.